Salina Myat
Salina is a recent graduate of the Sydney Conservatorium of Music where she obtained a Bachelor of Music Performance in Percussion. She has engaged in various orchestral programs outside of the conservatorium such as Sydney Youth Orchestras and Australian Youth Orchestra. She has also been a contributor to Cut Common magazine for casual review work and enjoys writing in her spare time.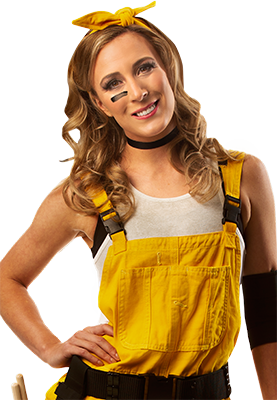 Peta Anderson
Peta is one of Australia's leading Tap dancers, and is taking the world by storm by combining her knowledge in both Irish and Tap dance styles to create unique rhythms found within her love of both percussive forms of dance. Peta started dancing at the age of 3 in Sydney, where she attended the Mcdonald college of the arts . After finishing high school she went on to complete a diploma in performing arts at "Dance world studios" Melbourne.
Peta went on to tour with "The Rhythms of Ireland" around Australia and New Zealand straight after finishing her diploma which lead her to performing with "Dance of Desire" in China. Peta then appeared on Ireland's "RTE" TV program "Dance off" where she was chosen to perform as principal dancer and played the part of "Aisling" in the show "Noctu", which then went on to perform in New York on Broadway, gaining 2 drama desk award nominations.
Read More
Peta then went on to perform in Riverdance between 2011 and 2015, travelling all over the world including Australia, New Zealand, Ireland, Europe, Uk and China, as part of their 20th anniversary tours. Whilst being a part of Riverdance she also starred in their brand new production "Heartbeat of Home" as part of the original cast performing in Ireland, China and Canada.
Peta was also a part of an arena tour of the UK performing in Ant & Decs "Saturday night takeaway on tour" dancing with the likes of Blue, Ashley Roberts, Peter Andre, and Westlife.
When Peta returned to Sydney she was cast in the role of "Lola"in the Kermond creative production of "Spiegle'esque" which has been performed all around Australia.
Peta now resides in Sydney where she is choreographing/producing and starring in a brand new show called "Eireborne" which tributes everything Ireland has bought to the world in both music and dance. "Eireborne" has just finished its second tour with great success and has had numerous sold out shows, with the future looking very bright, Peta is so honoured that the first show she has helped create is about to become international as "Eireborne" will perform a residency in both Zurich, Switzerland and Hamburg, Germany later in 2019.
Peta also performed on "The Voice" as the featured drummer for James Arthur as well as his film clip for his hit song "You deserve better", and as a featured singer behind "Conrad Sewell".
Peta has a growing reputation as a choreographer and recently choreographed the 2018 "Bulgari" launch in Sydney and is now on board to choreograph a Brand new show featuring "The drummer Queens" directed and created by both Nigel Turner-Carroll and Joe Accaria.
Peta is recognised worldwide as a "Capezio" athlete and was named in the top 30 most inspirational athletes of 2017 to recognise 130 years of the "Capezio" brand, she was excited to be the face of the new campaign releasing the "Tapsonic" shoe as her style of fusing both tap and Irish dancing together represented the shoe perfectly. In 2018 she also became an ambassador for "O'mara sprung floors" which is based in Michigan, USA.
Most recently Peta was on the faculty of the "Australian Tap festival" and the "London Tap intensive" in 2018 and in early 2019 she was on faculty at the "UK tap festival" in Manchester.
Niki Johnson
Niki Johnson is a contemporary percussionist and interdisciplinary artist. Some of her recent projects involve creating new percussion instruments, work with contemporary dancers, and freelancing as a contemporary percussionist.
Niki Johnson is a contemporary percussionist and interdisciplinary artist, who seeks out experimental performance practices and presentation models. Her interest in collaborative form works, where percussion is not the primary artform, has led to her development of prototype ceramic instruments, development of a unique instrumentarium of repurposed discarded objects,and collaboration with artists from non-musical disciplines.
Read More
Some of her recent interdisciplinary practices include collaborations with ceramic instrument designers, work with contemporary dancers, and freelancing as a contemporary percussionist.
Niki is a Speak Percussion Bespoke Artist and performs with chamber ensembles such as Ensemble Offspring, Hourglass Ensemble and Synergy Percussion. She is a member of multiple improvisation ensembles including Throat Pleats and SICKO, and is involved in multi art collaborations with dancers, ceramicists, and artists. In these ensembles and collaborations Niki explores sound, relationships through collaboration, and theatre.
She was a 2018 graduate of a Bachelor of Percussion Performance degree at the Sydney Conservatorium of Music. She has recorded percussion for Tapsapce Publications, Studios 301, Trackdown Fox studios, and the ABC. She performed in the 2018 Sydney Festival, was a festival artist in the 2019 Canberra International Music Festival, performed in Concertos on Fire at City Recital Hall, was a 2019 Hatched Academy artist for Ensemble Offspring, performs with DrummerQueens, and is a member of the experimental music committee theNOWnow.
Ned Wu
Nerida (Ned) Wu is a rock drummer who has played live and performed in the recording studio with numerous original and cover bands over the years. As a member of various independent rock bands from 2006-2018, Ned has been fortunate to tour internationally, playing multiple festivals and shows across Europe, the UK, USA, Canada, Japan and Australia. She has played at national festivals such as Big Day Out, Homebake, Woodford Folk Festival, and Tamworth Country Music festival.
In 2015 Ned performed in the musical "Tap Dogs", touring China, Hong Kong and Macau. She has been a member of all-female percussion group DrummerQueens since 2013, directed by Joe Accaria and Nigel Turner-Carroll, performing as part of the group in various gigs from Australian Ultimate Drummer's Weekend 2015, to Singapore for Lunar New Year 2020.
Read More
Since 2013 Ned has been studying Taiko (Japanese drums) under Ian Cleworth of Taikoz, performing in corporate events and teaching children in schools and workshops through Musica Viva.
Ned is currently working on recording new music with solo artist Jeremy Costa. His music encompasses Motown grooves and rock guitar with classic melody. Jeremy has spent time recording in New York with producer/engineer Henry Hirsch (Lenny Kravitz), and tracks will be released in 2021.
Links:
Facebook: https://www.facebook.com/nedwudrums
https://www.facebook.com/jeremycostamusic
Instagram: ned_wu_drums
Lisa Purmodh
Internationally celebrated drummer and percussionist in Reggae, Afro-Funk, Soul, Blues, Roots, Soca, Soul, R&B, Dancehall, Funk, and Calypso music. Lisa Purmodh began nurturing her musical talents at the young age of 6 when she picked up her first pair of sticks and started learning from her father, James Purmodh, the legendary pioneer of Australian reggae since the 1970s, a time when Afro-Caribbean music was unknown in the country.
Lisa launched her professional career at 19, performing with the esteemed African Diaspora in a sold-out show at The Basement, the premier Blues and Jazz venue in Sydney, Australia. In recent years, Lisa has performed throughout Europe, North America, and South America, with celebrated Australian artist Xavier Rudd.
Read More
Highly regarded by world's top reggae artists, Lisa has performed in Jamaica with Damian Marley, and recorded extensively with Stephen Marley. She has also shared the stage with world renowned artists Ky-Mani Marley, Third World, Mike Champion, Steel Pulse, Afro Moses, Machel Montano, and Bunny Wailer, to name a few.
Lisa has established herself as a positive role model to young women across Fiji and Australia with mentorship initiatives, music workshops, and performances classes. Lisa has been featured extensively in the press and has become the most renowned female reggae drummer in the music industry today.
Georgia Anderson
Georgia's a dynamic, triple-threat performer/creative who's passionate about dance & rhythm. She loves experimenting with many, varying skills and is excited to work with the incredible team at Drummer Queens!. Georgia is a passionate, triple-threat performer & creative. She is well-known for her versatility, athleticism, dynamic energy & rhythm. Georgia moved to Sydney on a scholarship to study at The Next Step Performing Arts and completed her Cert. IV at Brent Street in The Performing Arts.
She has had the incredible opportunity to work for many independent, Australian companies including Phly Crew, Tap For All, The Forge Tap Company & Dance Editorial. Georgia is an enthusiastic member of Girls On Tap, who continuously push her as a tap dancer/choreographer, is a founding member and assistant-director of the Blackguard and has performed internationally on P&O Cruise lines with Junkyard Beats, where her journey of rhythm transformed from tap-dancing into drumming and all sorts of unconventional-recycled percussion.
Read More
Georgia has performed with Australian musicians including Johnny Ruffo, Thelma Plum, Kate Ceberano, Emma Louise and international artist Luciana.
She played the role of "Estella" for Opera Australia, in her debut musical "West Side Story" with Handa Opera Sydney Harbour, and was rehearsing to perform in their most recent harbour production of "La Traviata".
On camera, Georgia has appeared in TVC's for Hungry Jacks, Telstra, Apple, KitKat, was a featured dancer/model for Supre's activewear campaign, has performed on The Disney Channel's "Hanging With" and ABC's "Australia Day Live at The Opera House". She has performed at various corporate events, working for Chevron, NuSkin, Toyota, Prudential HK, Harvey Norman, Blackmores and performed at The Stranger Things 2 preview at Sydney Opera House.
Aside from her performing career, Georgia has been teaching dance throughout Australia, specialising in Tap, Jazz & Hip Hop. She is a resident choreographer/instructor at The Sydney Tap Festival and is an instructor for Girls On Tap, Junkyard Beats & Ballet Workshops Australia. Georgia is a dedicated, inspiring teacher who loves to experiment with and combine many different styles. She aspires to choreograph and direct shows of her own one day.
Georgia is immensely excited to work with the mind-blowing team at Drummer Queens, where she looks forward to learning even more about the wonderful world of rhythm! She would like to thank her family, friends, teachers & students for their continued support on her journey of rhythm, dance, and everything in-between!
Claudia Wherry
"Claudia Wherry is an Australian percussionist, currently undertaking her Honours degree in Music at UNSW, majoring in performance. Claudia has a deep passion for drums and performance, with a particular specialty in taiko, the contemporary art of Japanese drumming. Since becoming a member of award-winning Sydney based taiko ensemble Taikoz in 2018, Claudia has had the privilege of studying under taiko greats including Chieko Kojima, Hiroo Asanuma, and Hiro Hayashida. Throughout her percussion career, Claudia has toured across Australia and performed internationally, with career highlights including performing alongside the legendary Yoshikazu and Yoko Fujimoto of ensemble KODO, Australian jazz saxophonist Sandy Evans, Shakuhachi grand master Riley Lee, and collaborative works with dance company Lingalayam."
Stef Furnari
With over 10 years experience in the music industry, Stef has made a successful career out of doing what she loves most, playing drums! After completing a Bachelor of Music from the Australian Institute of Music followed by a Graduates Diploma in Education at ACU, Stef's career took off with gigs in the Australian & International music scene. Stef has played drums on TV for Australia's X-Factor, the Australian of the Year Awards and a number of commercials.
She is a cast member of Girls on Tap and played at a number of NRL Finals and Grand Finals with the Drummer Queens alongside the likes of Sarah McLeod, Ricky Martin and Jessica Mauboy. Stef currently tours and plays percussion for Australia's Disco Queen, Marcia Hines.
Read More
Not only has Stef been successful within the Australian music scene, she spent quite some time in Los Angeles alongside many of America's greats such as Gordon Campbell and Printz Board (Black Eyed Peas Producer and Keyboardist). Stef continues today to play professionally in Australia and Internationally and is a complete force to be reckoned with.
Sasha Lian-Diniz
Sasha's passion for the arts began at age 3 with her first lesson at the Janice Breen Performance Studio in Sydney. In 2015 Sasha attained her Certificate IV in performing arts at Brent Street Studios.
Upon completing her training, she explored many avenues of show business including performing at sea for Norwegian Cruise Lines, corporate events for Toyota, Mazda and Optus and appearing on Channel 7's Carols by Candlelight.
Sasha has also represented Australia at the World Championships of Performing Arts in L.A. and is a rhythmic gymnastics National Champion, representing Australia in New Zealand and the USA. She also has her own active wear label called "Sashed".
Read More
In 2017 Sasha made her musical theatre debut in the Australian Premiere of The Bodyguard – The Musical and recently performed in the Australian Tour of Charlie and the Chocolate Factory – The Musical.
Sasha is thrilled to be joining the cast of Drummer Queens and is super excited to tour with this incredible group of talented women!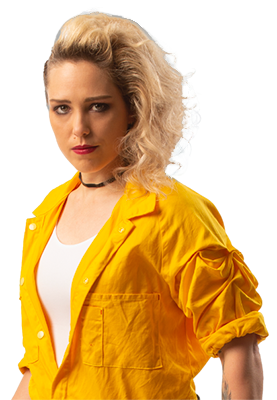 Astrid Holz
Astrid is a drummer, vocalist, songwriter, sound engineer and music producer. Since competing a bachelor in Music at UNSW and an Advanced Diploma in Sound Production at JMC Academy, she has been heavily involved in the Australian music scene. She has engineered or performed with multiple artists during her career, including Hayley Mary, Annie Hamilton, Blackstreet, RACKETT and Le Pie.
While she regularly drums live with bands, Astrid also runs a recording studio (Caramel Sounds) located in Marrickville with her partner Kat Ayala. There they produce music with other singer/songwriters, as well as create their own records under the name Forces & Fury.
Stay up to date and receive pre-sale ticket offers!